IT Infrastructure Performance Monitoring
Uptime Infrastructure Monitor
To ensure that organizations remain a vital and respected contributor to organizational values, IT managers must aggressively monitor and report on service levels. Monitoring of service-level agreements (SLAs) for IT systems is key in translating IT effectiveness into measurable business value.
SLA monitoring tools ensuring these agreements are appropriately governed and met. SLA monitoring focuses on key drivers monitor and report on IT service levels. IT organizations can then address SLA challenges and confront the failure points that have undermined past efforts via SLA management. Proactive management via the creation of SLAs to accurately represent and report against your goals requires a robust SLA management system.
SLA Monitoring and Alerting
Intelligent SLA monitoring and proactive alerting helps IT troubleshoot SLAs before they miss targets. When problems do arise, react swiftly with fast troubleshooting, deep SLA root cause analysis, and detailed SLA reporting on the infrastructure elements that are affecting the SLA delivery. See exactly where the problem is – instance, server, network, or application level. This proactive notification gives you time to make up the shortfall, so you never miss an SLA.
Comprehensive SLA Reporting
Uptime Infrastructure Monitor provides detailed SLA monitoring and reporting that monitors the impact of each infrastructure element on SLA delivery. Set Service Level Objectives (SLOs) and build your SLA in minutes. Easily group the infrastructure and applications that make up the SLA for a full picture of service delivery.
Test IT SLAs Before Committing
When considering an SLA target, a critical best practice is to test the IT SLA in a dry-run first. However, there are very few tools that can model how you will perform against your SLA. With three clicks, Uptime Infrastructure Monitor uses your historical performance data to test your proposed SLA against your past performance. Know for certain if you can meet the IT SLA, based on actual historical IT performance. Quickly learn if you will hit, miss, or exceed the SLA targets before committing to them.
Customizable SLA Dashboards
Manage SLA targets with Uptime Infrastructure Manager's IT SLA dashboard, showing real-time status and SLA trends over time. The dashboards show the health your IT environment, including total performance, availability, and capacity and allows you to customize with a drag and drop gadget design. In minutes, create private SLA dashboards and team dashboards (server group, application group, network group, by SLA, etc.), as well as a network operations center (NOC) for the entire datacenter.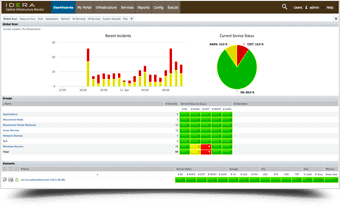 Ready to Purchase?
Uptime Infrastructure Monitor is priced with value and simplicity in mind.
Live Product Demo
See Uptime Infrastructure Monitor in action with a seasoned pro.