IT Infrastructure Performance Monitoring
Uptime Infrastructure Monitor
Ensuring the performance and availability of IT services and applications is essential for IT departments. Organizations cannot run without the IT infrastructure they depend on. Capacity limitations of data centers are impacting service delivery growth. Organizations have complex heterogeneous infrastructures with both physical and virtual systems. Data center consolidation and virtualization is accelerating. Consequently, increased capacity costs are problematic.
Capacity planning tools help locate the current and future bottlenecks in the IT environment. Such capacity management tools help determine what capacity constraints are at greatest risk of impacting the uptime of IT systems. Proactive management via forecasting based on historical trends requires robust tools for capacity planning.
At-a-Glance Answers to the "Big 3" Capacity Questions
Capacity can haunt your IT service delivery, but it doesn't have too. Uptime Infrastructure Monitor gives you deep, accurate, and cross-platform monitoring and reporting capabilities to answer the "Big 3" capacity planning questions across your entire infrastructure. How much capacity do you currently have? How much capacity are you currently using? When are you trending to run out of capacity?
Unified Views of Capacity Across Multiple Platforms
If you want a better way to plan, manage, and report on IT capacity across all your servers, applications, and networks, you need the right tool. Uptime Infrastructure Monitor gives you unified capacity planning, monitoring, and management across Windows, Linux, UNIX (AIX, Solaris, HP-UX, Novell), Virtual (VMware, Hyper-V, Xen) and Cloud servers. See a total view of your current capacity and trend your future capacity needs. See historical capacity data from yesterday, last week, last month, or a year ago.
Capacity Forecasting and Proactive Management
Proactive capacity tools see problems before they happen across the entire datacenter. Quickly see how much capacity you have and how much capacity you are currently using in both physical and virtual environments. Capacity forecasting, with instant graphs on critical server resources (including Memory, CPU, Disk, and I/O), keeps you in control. Uptime Infrastructure Monitor's capacity monitoring, alerting, and reporting shows you the complete capacity picture, so you never get blindsided. Find tough capacity bottlenecks even in virtual and elastic cloud environments.
Predict Future Capacity Needs with Historical Trends
Uptime Infrastructure Monitor's capacity planning and trending highlights the direction that your capacity position is moving in, so you can clearly see capacity problems well ahead of time. Set capacity thresholds and get alerted before it's too late. Forensic "Time Travel" capacity reporting allows IT to travel back in time to see how and why capacity problems occurred over the past few minutes, hours, days, weeks, or months. In virtual environments, go back in time and see your capacity, even if your environment has dynamically changed since then.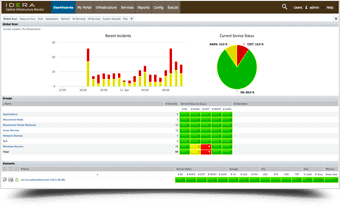 Ready to Purchase?
Uptime Infrastructure Monitor is priced with value and simplicity in mind.
Live Product Demo
See Uptime Infrastructure Monitor in action with a seasoned pro.