Solution Brief

:

SQL Diagnostic Manager for SQL Server
Monitor Always On availability groups with SQL Diagnostic Manager for SQL Server
Always On availability groups are part of an integrated solution with the goal of achieving the highest level of data availability and disaster recovery for organizations. Availability groups grant database administrators the ability to automatically or manually failover a group of databases as a single unit with support for several secondary replicas. With IDERA's SQL Diagnostic Manager, you can easily and quickly monitor Always On availability groups.
This solution brief introduces the Always On Availability Groups view with relevant charts, alerts, and alert response bundles. Also discover how the History Browser can display problems with Availability Groups that occurred in the past. And learn about the Availability Group Topology server monitor report and the Availability Group Statistics database analysis report.
Topics : Database Diagnostics,Database Monitoring,Database Performance,
Products : SQL Diagnostic Manager for SQL Server,
Try SQL Diagnostic Manager for SQL Server FREE for 14 days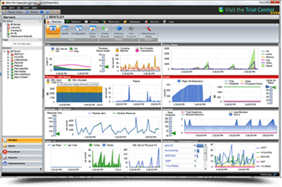 24X7 SQL performance monitoring, alerting and diagnostics
Monitor queries and query plans to see the causes of blocks and deadlocks.
Monitor application transactions with SQL Workload Analysis add-on.
View expert recommendations from SQL Doctor to optimize performance.
Alert predictively with settings to avoid false alerts.
View summary of top issues and alerts with the web console add-on.