IDERA SQL Diagnostic Manager
helps you monitor and manage
databases of all sizes – on-prem
and in the cloud.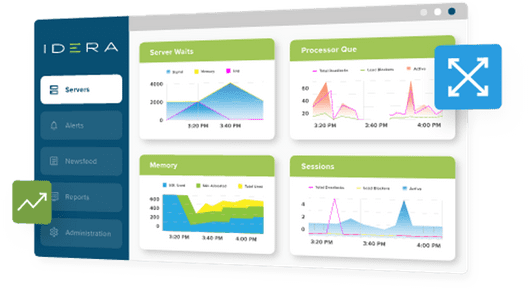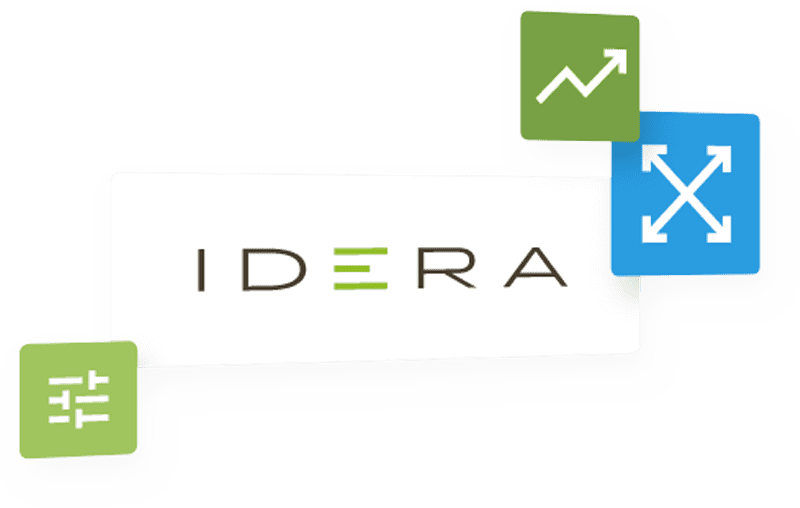 Monitoring, reporting, and beyond…
A Database Administration Tool
that can do it all. Data estates can become complicated, but SQL Diagnostic Manager makes sure your job doesn't.
When your business gets bigger—whatever 'bigger' means to you—so does the complexity of your data estate. As you make choices about scaling, such as switching to the cloud or employing a hybrid system, it gets harder to monitor and manage. What you need is a centralized tool that helps you keep an eye on every facet of your data environment.
No matter the size or location of your environment, we can help.
Managing your databases is a bit like playing hide and seek. The larger your environment, the more places there are for issues to hide. We created the SQL Diagnostic Manager with enterprise management and cloud features to take the labor out of managing multiple databases—whether they're on-prem or in the cloud, you can see everything in one, convenient place.

Monitor and manage on-prem and cloud-based databases in one centralized tool.

Monitor one, ten, or ten thousand databases with the same level of ease.

Receive cross-network reports collating your 'bottom ten' problematic resources based on your customized attributes.
Best Database Administration Software
for no reason. Here's what SQL Diagnostic Manager can do.
See overview and drill down
View your entire environment in a customizable dashboard and drill down to find the root causes of problems, reducing your time spent troubleshooting. Get flexible SQL Server monitoring by specifying multiple dashboards per instance.
Access on mobile devices
Identify and resolve tempdb contention and performance problems, while checking and displaying the space and performance information of your tempdb.
Apply granular application security
Smoothly address varying access needs with access to your servers and instances via fine-grained security permissions for different groups of people.
Deploy via web browser
Avoid the installation and maintenance of desktop consoles. Reach a diverse pool of users and endpoints by deploying SQL Diagnostic Manager access via a web browser.
Deploy for hybrid cloud
Consolidate vital information and plan for the cloud-centric future by deploying SQL Diagnostic Manager to simultaneously monitor your on-premises databases, databases on cloud virtual machines, and managed cloud databases.
Share configurations
Export and import configuration files to efficiently share customized dashboards, counters, alert templates, and reports with other users across your organization.
Install on cloud virtual machines
Unify your control by running SQL Diagnostic Manager for SQL Server on cloud virtual machines with Windows—such as Amazon Elastic Compute Cloud (EC2) and Azure virtual machines.
Access mapped cloud drives
Get the most out of the cloud with cloud storage mapped as network drives or removable drives on Windows with SQL Diagnostic Manager for SQL Server. For example, map storage to Amazon Simple Storage Service (S3) and Azure Blob Storage.
Monitor SQL Server on cloud virtual machines
Monitor your SQL Server running on cloud virtual machines with virtualization software compatible with VMware and Microsoft Hyper-V—such as Amazon EC2 and Azure virtual machines.
Monitor managed SQL Server cloud databases
Extend your cloud capabilities with monitoring for Azure SQL Database and Amazon RDS for SQL Server.
Monitor hybrid environments with one tool
Save time by using the same SQL Server performance monitoring tool for SQL Server databases on-premises; in the private, public, and government cloud; and in the public and government cloud.
01
Sign up for a free two-week trial
Trying our IDERA SQL Diagnostic Manager is easy and commitment-free.
02
See the difference in your data management
Unlock efficiency in your processes like never before.
03
Get full support— no strings attached
Throughout your trial, our team is on hand to answer any questions.