Application and Relational Database Performance Monitoring for Multiple Platforms
Precise
Track the performance of application transactions into relational databases for multiple platforms from a single user interface
PeopleSoft system operations deteriorate without end-to-end performance management. It is common for systems to serve thousands of processes, batch jobs, users, and transactions. When performance degrades, productivity suffers and it negatively impacts the bottom line. PeopleSoft's complex multi-tier infrastructure is often managed by pockets of staff with domain-specific knowledge at each tier along the chain of delivery. In many deployments, integration with external applications is common, further increasing complexity. Webmasters, J2EE developers, Tuxedo administrators, DBAs, system administrators, and storage administrators typically each have their own set of performance metrics and monitoring tools they use to determine the quality of service they are delivering. This fragmented approach makes it difficult to identify and tackle the root cause of performance problems. In order to overcome these challenges, IT must have a consolidated view of the transactional data across every tier.
24x7 PeopleSoft APM
The Precise Platform reports directly on PeopleSoft end-user or batch process response times, identifies emerging performance bottlenecks within or across tiers, and provides actionable advice when application performance departs from targets or norms.
Detailed Root Cause Identification
Because of their complex nature, PeopleSoft systems are notoriously difficult to manage. The Precise Platform helps IT drill into PeopleSoft transaction paths to see detailed root cause information. This information helps them solve performance problems quickly, often before end-users or batch processes are impacted.
Performance Alerts
The Precise Platform proactively monitors PeopleSoft performance by collecting the real-time status of key performance metrics and comparing them to established thresholds set by your organization. When a potential problem is detected it can send notification in the interface or via email and can even take defined corrective actions.
Capacity Planning
PeopleSoft systems are constantly growing and evolving. By connecting transaction performance with the infrastructure it touches, the Precise Platform makes it easier to align server and storage capacity with the growing needs of the business.
Business Oriented SLAs
Business leaders can set business oriented application SLAs to align performance management with core objectives. This visibility into SLAs and usage patterns enables more efficient budget allocation and tighter matching of system performance to business priorities.
Enhanced Collaboration
The Precise Platform eliminates monitoring complexity by providing a single solution and a common set of data for all personnel across tiers. This facilitates collaboration among disparate teams and simplifies consulting additional domain experts which in turn drives faster problem isolation and resolution.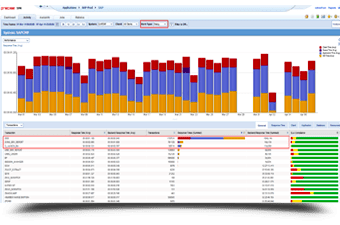 Need pricing options?
Europa Sports is very likely to recommend Precise for this reason: "Precise provides excellent drill-down capabilities to reveal information not easily retrieved otherwise."
Rick Reynolds, JD Edwards CNC/System Administrator, Europa Sports (Medium Enterprise, Wholesale Distribution), USA.
TechValidate 81B-150-0C5.
Application Performance Monitoring