Database Inventory Management for SQL Server, Azure SQL Database, and Amazon RDS for SQL Server
SQL Inventory Manager
Version 2.6
Adds platform support for SQL Server instances in cloud environments (Azure and Amazon, both IaaS and DBaaS), including discovery, health checks, custom metadata, and reporting
Expands health checks for monitoring for SQL Server instances running on Azure VM and Amazon EC2 to provide the same support as on-premises instances
Monitors Azure SQL Databases (Single, Managed Instances, and Elastic Pool) and Amazon RDS
Bug fixes and enhancements
Version 2.5
Ability to install SQL Inventory Manager Repository on SQL Server 2017 for Windows
Ability to monitor SQL Server 2017 on Windows and Linux
Provides additional views to see an organization's SQL Server inventory through Host (physical, virtual, cloud) topology.
Organizations that have Physical Host Licensing with Software
Assurances can now see core license counts by physical host servers
Explorer view provides host information for all registered SQL Servers whether they are located on a physical or virtual host or the cloud
MS SQL Licensing View and Licensing View by Hosts have been updated to reflect the latest Microsoft Core License Calculations for SQL Server 2016 and above
Enhanced security standards with support for TLS 1.2
Bug fixes and enhancements
Version 2.4
Customized Reporting – Generate customizable reports to compile information about the SQL Server environment, including SQL licensing, inventory summary, chargeback, and health checks.
Profile Visibility – View a list of users and security profiles at the database and instance levels to determine the types of users that have privileges.
Repository Failover – Install, configure, and failover the repository to an Availability Group.
Performance and usability improvements.
Discovery of BI Services – Discover SQL BI services (SSRS, SSIS, SSAS) that are not running on DB Engine.
Support for AlwaysOn Availability Groups – Discover and monitor database instances on AlwaysOn Availability Groups.
Patch and Version List – Ability to compare builds for servers that are in your inventory vs what is the latest patch from MS for that version.
Enhancements to Discovery – Add new Discovery options such as Include/Exclude Domains and Organizational Unit.
Configure Health Checks – Set threshold values at risk warning alerts for the database Volume, Data and Data Logs.
Improved Import Capability – Ability to import additional data such as locations, owners, database tags for database instances that user wants to monitor.
Enhancements with IDERA Dashboard – Ability to promote tags to IDERA Dashboard to be used by other IDERA products.
Bug fixes and enhancements
Version 2.2
Number of cores and core factor information added to MS licensing view
Ability to configure default values of health check settings
Support for SQL Server 2016
Performance improvements to optimize for larger environments
Version 2.0
Product name changed from SQL Elements to SQL Inventory Manager
Enhancements to Discovery
Expands discovery collection criteria to those which Microsoft Assessment and Planning (MAP) toolkit uses for SQL Servers.
Specify a listing of alternate credentials with admin privileges to use during the discovery process in case the original credentials are not valid.
Enhancements to Inventory Management
Database Level Tagging – set tags and comment on databases distinctly from the server instances they reside upon.
Custom Inventory Fields – create custom inventory fields or labels at the server, instance &/or database level to further categorize assets.
Server & Database Decommissioning – mark any instances and databases taken offline to prevent erroneous alerting. Those servers will preserve asset and tagging information in the event you need to re-commission later.
View Application Information – see the applications running on an instance to understand how the server is being utilized and how often the applications are used.
Improved Scalability – monitor and manage thousands of databases.
Expanded Search – search by text string for specific instances or databases across the managed inventory.
Role-based Security Enhancements
Specify different levels of user access including administrator, modify only and read-only.
Integration with Idera Dashboard
Access a consolidated dashboard console to quickly view and navigate between the different products you use from Idera. SQL Inventory Manager will show key indicators in the dashboard view including:
Top Databases by Size
Top Databases by Activity
Tags cloud
SQL Server Licensing Info
Additional Platform Support
Monitor and manage IaaS for Amazon RDS, SQL Azure and SQL Server 2000.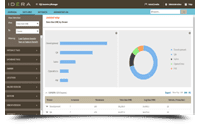 Buy Now
Packages start at $3,195.00 $2,556.00 for 10 instances
Save at least 20% on all online purchases.
Volume discounts available.

Application Performance Monitoring