Take PowerShell To The Next Level
WITH SQL DIAGNOSTIC MANAGER
Combine PowerShell and SQL Diagnostic Manager to proactively monitor SQL
Server performance, set up predictive alerting, troubleshoot via expert
recommendations, and more.
Flexible Automation and Monitoring for PowerShell
Utilize the vast power of PowerShell scripts via the customizable monitoring environment of SQL Diagnostic Manager.
Automate administration of SQL Diagnostic Manager deployments
Customize properties of monitored SQL Servers
Execute scripts in response to alerts
Connect existing scripts to monitoring environment to automate execution
Use powerful monitoring environment instead of writing certain scripts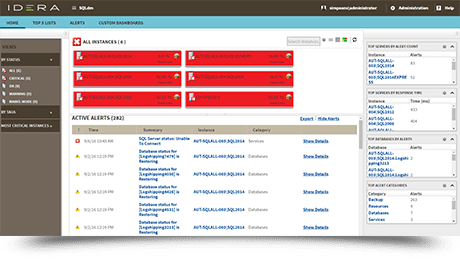 24/7 SQL Server Performance Monitoring
Monitor, diagnose, and optimize the performance of physical and virtual environments with predictive alerting and expert recommendations.
Monitor queries and query plans to see causes of blocks and deadlocks
Monitor application transactions with SQL Workload Analysis add-on
View summaries of top issues and alerts with web-based dashboard
Increased SQL Server Availability
Proactively monitor the health, performance, and readiness of servers via a central console, web-based dashboard, and mobile device.
Summarize current and historical situation across the enterprise
Display comprehensive real-time activity, status, and performance information
View metrics for sessions, queries, system resources, databases, services, and logs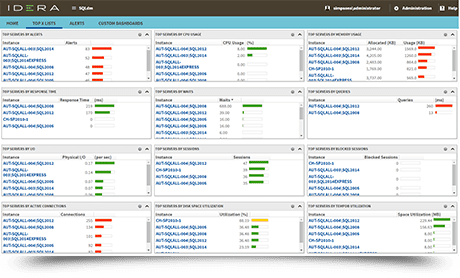 "SQL Diagnostic Manager is that rare tool that can be used in all phases of database administration and development. It allows me to see real-time performance gain or loss and to quickly dial-in on performance issues. Also, with the historical information SQL Diagnostic Manager provides, it's much easier to head off problems before they occur."
– Database Architect, Renaissance Learning, Inc.