Application Performance Monitoring for Multiple Platforms
Track the performance of application transactions into relational databases for multiple platforms from a single user interface
Today's internet-enabled applications demand peak performance, especially under burst loads when business consequences are greatest. Multi-tiered architectures centered on J2EE-compliant application servers provide the functionality needed to meet these demands. The Precise Platform provides specialized features to ensure that your IT infrastructure withstands business demands and supports growth.
Instantly Detect Performance Bottlenecks
The Precise Platform couples in-depth knowledge of your J2EE application with expert system technology to instantly isolate the root cause of performance problems and recommend actionable correction advice. With a single mouse click, staff in QA and production environments are able to quickly identify and resolve performance problems – capabilities that were once the sole domain of engineering and development groups.
Identify and Instrument Hotspots Automatically
The Precise Platform's adaptive instrumentation tool ensures that all of an application's "hot spots" are identified and instrumented automatically without costly application server restarts. Development, QA, and production teams no longer have to spend days or weeks trying to isolate the problem areas of their J2EE applications. Adaptive instrumentation automatically maps the various application components, then adjusts and learns as changes are made to the application. This ensures maximum visibility with the lowest possible overhead.
Customize Data Display
Communicating problems efficiently helps speed the time from problem detection to correction. The Precise Platform provides a customizable operational dashboard. Users can define the metrics they want to see (such as Response Time, Work Time, and JVM Status), and organize and display them on multiple user-defined tabs. The dashboard is role-based and can provide different views to each user.
Designed for Production
The Precise Platform is designed to run in production and scale to meet the variable needs of Java applications and deployments. Low-overhead, high-precision technology allows the agents to run in production to gain maximum application visibility without impacting storage or performance. The Precise Platform extracts performance metrics from the underlying operating system to correlate CPU usage with Java application components and specific end-user transaction requests. It also leverages the unique vantage point of the middle tier to associate user requests with database activity, enabling it to isolate scalability bottlenecks between the middle tier and the database tier. The Precise Platform can also help identify class contention, report on exceptions thrown, and diagnose memory leaks.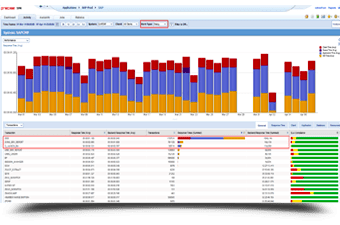 Need pricing options?
Europa Sports is very likely to recommend Precise for this reason: "Precise provides excellent drill-down capabilities to reveal information not easily retrieved otherwise."
Rick Reynolds, JD Edwards CNC/System Administrator, Europa Sports (Medium Enterprise, Wholesale Distribution), USA.
TechValidate 81B-150-0C5.

Application Performance Monitoring