IT Systems Monitoring Checklist and Calculator
Who are these Checklists and Calculators for?
These IT systems monitoring and management evaluation tools are designed to help IT managers
and administrators as they search for the right ITSM, server monitoring, and unified IT dashboard solutions.
We noticed that many of our customers had to create similar checklists and calculators from scratch.
Rather than start from a blank sheet of paper, these tools can be a starting point for your systems monitoring
software evaluation. Update, expand and customize them depending on your exact requirements.
Review the Checklist and/or Calculator below.

Add in your IT systems management and server monitoring priorities/needs/requirements if not already included.

If you wish to include Uptime Infrastructure Monitor in your checklist, we can send you a pre-filled version.
Just email us at 

[email protected]

 or contact Sales

Checklist
Compare IT Systems Monitoring Products
Use this complete and customizable checklist to
compare different IT systems management and
server monitoring products.

ROI Calculator
Understand IT Systems Monitoring Value & Cost
We can help you calculate the ROI of a new
monitoring solution based on your specific requirements
and budget with our proprietary ROI Calculator.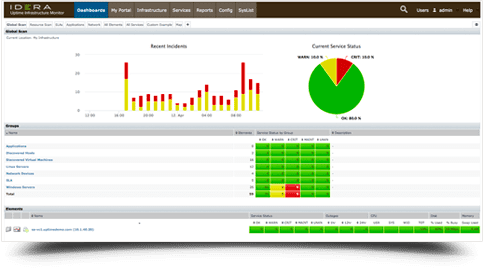 Uptime
Infrastructure
Monitor
Open Source
Tools
Multiple Point
Tools
"Big 4"
Frameworks
Functionality
Ease of Use
Deployment and
Maintenance Cost
License Cost
Notes
– Unified IT Dashboard
– Highly Customizable
– Deploys in Days
– Easy to Use
– Low Administration Time
– Highly Scalable
– Expert Support
– Integrated Reporting
– DIY Kits Drain Time
– Intensive Maintenance
Required
– Poor Scalability
– Limited Reporting
– TCO Not Free
– No Unified Dashboard
– Creates IT Silos
– Finger Pointing &
Blame Game
– No Correlation
– Weak Integration
– High Resolution Time
– Expensive
– Complex Administration
– Labour Intensive
– Low ROI
– Long Timelines
to Deploy