Business Process Modeling
ER/Studio Business Architect
Create conceptual and business process models for business architecture
Design business process and conceptual models to align with business goals
Map and model the relationships between people, processes, and data
Easily export conceptual models to ER/Studio Data Architect to create logical models
Quickly validate that business process models meet BPMN 2.0 specifications
Comply with regulatory requirements by identifying sensitive data elements
Design business process and conceptual models to align with business goals
Business stakeholders need to ensure that everyone in the organization understands how to describe the corporate data and business processes in consistent terms. Business Architect provides an easy-to-use visual interface to document, understand, and publish information about conceptual models and business processes so they can be leveraged to achieve business objectives.
Model and understand the relationships between processes, people, and data
Any organization will use a number of different processes for operations, sales, marketing, and other areas. Capturing the way a business works can be challenging, but without doing this, the business cannot operate efficiently. With ER/Studio Business Architect, business users can easily model and better understand the often-complex relationships between processes, people, and data.
Easily export conceptual models for use in the Data Architect tool
Save and export conceptual models from ER/Studio Business Architect as .dm1 files, and open them in ER/Studio Data Architect to use as the basis for logical data model development. Using the same terms and high-level descriptions for the data models will improve both data and model consistency.
Quickly validate that business process models meet BPMN 2.0 specifications
ER/Studio Business Architect includes automatic validation of process diagrams to ensure compliance with the BPMN 2.0 specifications. Easily validate your business, choreography, collaboration, and conversation processes and subprocesses based on the BPMN 2.0 standards (in real time or as needed). View syntax violations against the specification.
Comply with regulatory requirements by identifying sensitive data elements
In ER/Studio Business Architect, sensitive and personally identifiable data can be designated as such, to ensure compliance with internal business standards and external mandatory regulations such as GDPR, HIPAA, and SOX. Both data and business professionals can embrace their enterprise data environment to maximize the value of data governance initiatives.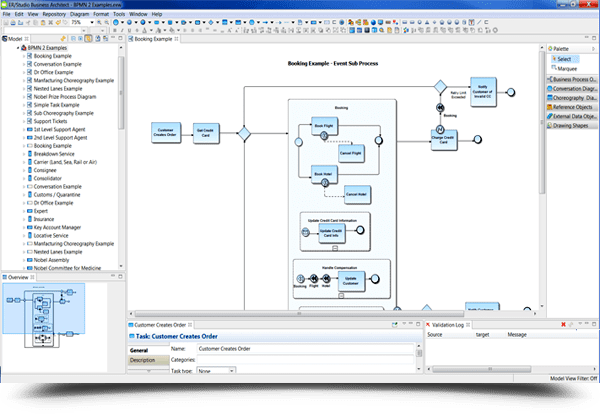 Buy Now
$1,150.00 $920.00 per user (workstation).
Save at least 20% on all online purchases.
Volume discounts available.
Live Product Demo
See ER/Studio Business Architect in action with a seasoned pro.