Application Performance Monitoring for Multiple Platforms

Precise for Applications

Track the performance of application transactions into relational databases for multiple platforms from a single user interface
Companies implement Oracle Applications to increase productivity and help tame complex business processes. The dynamic and customizable nature of Oracle Applications means that one-size doesn't fit all, and variations in configuration and usage exposes users to performance problems. If unresolved, these problems can erase the benefits gained and potentially cripple critical business processes. Oracle Applications support core business functions such as CRM, ERP, and HR. When these applications perform slowly, critical business transactions such as sales order entry, customer account provisioning, or financial reporting are impacted.
Real-Time Performance Management for Oracle Applications
The Precise Platform offers a complete application performance management solution for Oracle Applications, helping customers streamline IT operations, lower IT risk, and ensure project success. The Precise Platform does this by tracking end-user transactions across the URLs, forms, middleware, application servers, databases, and storage devices that they access.
Accelerated Problem Resolution
The Precise Platform collects detailed and actionable diagnostic information at each tier (network, web server, middleware, messaging queue, J2EE or forms server, database, and storage) to pinpoint the root cause and accelerate resolution. Precise breaks down transactions to isolate the bottleneck and determine whether it is inside or outside Oracle Applications. This allows fewer IT resources to resolve performance problems more quickly.
Performance Alerts
The Precise Platform proactively monitors Oracle Apps performance by collecting the real-time status of key performance metrics and comparing them to established thresholds set by your organization. When a potential problem is detected it can send notification in the interface or via email and can even take defined corrective actions.
Capacity Planning
Oracle Applications systems are constantly growing and evolving. By connecting transaction performance with the infrastructure it touches, the Precise Platform makes it easier to align server and storage capacity with the growing needs of the business.
Proactive Problem Detection
With the Precise Platform, Oracle Applications performance issues can be detected and corrected before they become a problem. Extensive reporting features make it easy to proactively tune the performance of your Oracle Applications forms and reports. IT organizations can run a set of standard or custom reports to isolate potential problems on any of the application tiers. These reports also provide a way to keep management and customers informed about application performance.
Drill-Down into the J2EE Tier
The Precise Platform also provides detailed information about the Oracle servlets that are running in the JVM. Details about the top consuming Java objects (EJB's, Servlets, JSP's) and method-call level time contributions are easy to attribute back to individual transactions to allow IT to assess the scope and impact of slow J2EE performance.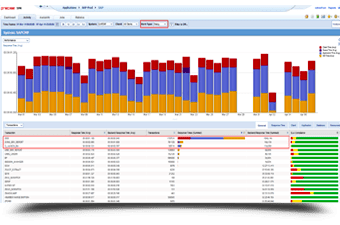 Need pricing options?
Europa Sports is very likely to recommend Precise for this reason: "Precise provides excellent drill-down capabilities to reveal information not easily retrieved otherwise."
Rick Reynolds, JD Edwards CNC/System Administrator, Europa Sports (Medium Enterprise, Wholesale Distribution), USA.
TechValidate 81B-150-0C5.

Application Performance Monitoring