Solution Brief

:

ER/Studio Team Server Core
New in ER/Studio 19.1: Team Server Collibra Integration
In ER/Studio Team Server 19.1, users will benefit from purpose built integration between ER/Studio Team Server and Collibra. Building on from the new Business Glossary functionality added in 19.0.1, users can now synchronize the Business Glossaries between ER/Studio and Collibra. Additionally, the integration enables users to publish logical and physical data models of data assets – with mappings to Business Terms – to the Collibra Catalog.
The latest release marks further progress in connecting the Data Architect with the Data Governance initiative, to encourage the pooling of knowledge and maintenance of a united data ecosystem.
Jamie Knowles is a senior product manager at IDERA, and has been in architecture and modeling for over 20 years. Jamie has been involved with how enterprise architecture, data modeling, and data governance developed and has seen its challenges and achievements. He has worked in product management and in the field within the banking, finance, and energy industries.
Topics : Data Governance,Data Modeling,Metadata,
Products : ER/Studio Data Architect,ER/Studio Data Architect Professional,ER/Studio Enterprise Team Edition,ER/Studio Team Server Core,
See ER/Studio Enterprise Team Edition in action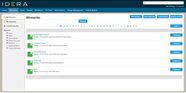 Document and enhance data from multiple database platforms with ER/Studio Enterprise Team Edition. We can help you build and maintain enterprise data models and metadata.