Data Modeling and Architecture with a Model Repository
ER/Studio Data Architect Professional
ER/Studio Data Architect
Minimum Hardware
memory: 4GB RAM
disk space: 2.5GB
Operating System
Microsoft Windows: 7, 8.1, 10; 64-bit
Database Platforms
|   | Platform | Core Platform |
| --- | --- | --- |
| Amazon Redshift | S M |   |
| Embarcadero InterBase XE, XE3 | M |   |
| Embarcadero InterBase 4, 2007, 2009 | M |   |
| Firebird 1.5, 2.x | M |   |
| Greenplum (Pivotal) 4.2 | M |   |
| Hadoop Hive 0.12, 0.13 | M |   |
| Hitachi HiRDB | M |   |
| IBM Db2 for iSeries V4R5 and V5R2 | M |   |
| IBM Db2 UDB for Linux, UNIX and Windows (LUW) 5.x to 10.x | S M |   |
| IBM Db2 UDB Server for OS/390 and z/OS 5.x to 11.x | S M |   |
| IBM Db2 Common Server | M |   |
| IBM Informix OnLine and SE | M |   |
| IBM Informix 9.x dynamic server | M |   |
| IBM Netezza 4.6, 5.0, 6.0, 7.0 | M |   |
| Microsoft Azure SQL Database | S M |   |
| Microsoft SQL Server 4.x, 6.5, 7, 2000, 2005, 2008, 2012, 2014, 2016, 2017 | S M |   |
| Microsoft SQL Server on Azure VM | S M |   |
| Microsoft Visual FoxPro 2, 3, 5 | A |   |
| Microsoft Access 2.0, 95, 97, 2000, 2013 | A |   |
| MongoDB 2.6, 3.0, 3.2, 3.4, 3.6 | M |   |
| MySQL 3.x, 4.x, 5.x | M |   |
| Oracle Database 7.3, 8.x, 9i, 10g, 11g, 12c | S M |   |
| PostgreSQL 8.0, 9.x | M |   |
| PostgreSQL 9.4 to 12 | S M |   |
| SAP Adaptive Server Anywhere (ASA) 5, 6, 7, 8, 9, 10 | M |   |
| SAP Adaptive Server Enterprise (ASE) 11.9.2, 12.x, 12.5, 15.0 | S M |   |
| SAP IQ 12.x, 15.x, 16.x | M |   |
| Teradata V2R4, V2R5, V2R6, 12, 13.0, 14.x, 15.10 | S M |   |
| Generic DBMS | A |   |
Platform
Platforms marked with S can be selected for a single-platform license purchase.
Platforms marked with M are available in our multi-platform license pack.
Platforms marked with A are available in all packs.
Core Product
As standard, we include the reverse engineering from database and forward engineering of DDL. Our core products also import from a SQL file and feature ALTER script generation from our compare/merge wizard.
MetaWizard Bridges
ER/Studio Data Architect also includes a subset of MetaWizard import bridges to access files from common modeling tools. Our Enterprise Team Edition includes the full list of MetaWizard Import/Export bridges which can import metadata from a wide range of technologies such as databases, data lake structures, flat files, business intelligence (BI), and data movement (ETL) tools.
ER/Studio Data Architect Professional - Repository
The Repository for ER/Studio Data Architect must be installed on a separate server.
Operating System
Microsoft Windows: 2012 R2 to 2016
Database Platforms
Microsoft SQL Server: 2012 to 2019
Microsoft SQL Server Express: 2012 to 2019 for product trials and proof-of-concepts
Oracle Database 11g, 12cR2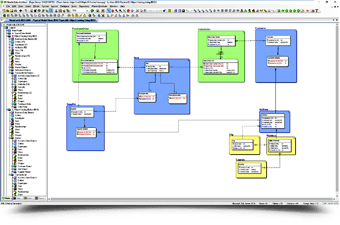 Buy Now
Includes first year of maintenance.
Live Product Demo
See ER/Studio Data Architect in action with a seasoned pro.